Design for manufacture and production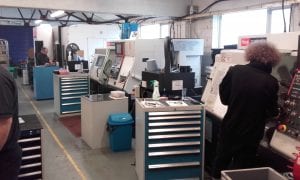 Almost everything we design has to be manufactured so this is foremost in our design thinking right from the start. CAD data is vital and a central reference for communication between all parties, and it is also used directly for manufacture. Inspection checks the data with manufactured parts for conformity during prototype and early production. Any fault or improvement feedback is carefully evaluated with changes to design or manufacturing scheduled at appropriate times.
With manufacturing expertise spanning many production processes, we have regular supplier contact within these industries in the UK, Europe and Asia.
Suppliers and processes
Our manufacturing supplier base is very important to us. We take care to select quality companies and build relationships with them. There is also an efficient flow of information and feedback between design and manufacture. A wide range of production processes are required to support our product design range.
Typical processes used:
Plastic and elastomer injection moulding
3D printing SLA, SLS, DMLS, FDM complemented by vacuum casting
Die casting, pressure and gravity
Casting, sand, precision sand, investment (lost wax process)
Carbon, Kevlar and GRP (glass reinforced plastic) products
Sheet metal work
Fabrication and steelwork
Sintered powder metallergy parts
Aluminium alloy extrusion system structures
Production presswork
Finishing
CNC and conventional manual machining
Metal sintering with powder metallurgy
Chemical milling (etching process to engrave metal or form thin sheet metal components)
Laser and waterjet cutting
Self-adhesive labels for high quality product fascias and information labels
Die castings
Product printing, etching and engraving
PCB, PCB assembly and test
Product assembly
Our Services
Find out more
Find out more about the wide rage of services offered by Abraham Associates and how they can help you with your next project.
Get in touch
Contact us to discuss your next project.
Contact Us
Get in touch
Give us a call or send us a message to find out more about our services or to discuss your project.
Get in touch